5 Affiliate Programs To Earn Over $1000 A Month From Home!
Join me, Elizabeta Paunoska, and I'll personally help you build a second income with top rated SFI—now in its 21st year! Click here to join my team and get started FREE today!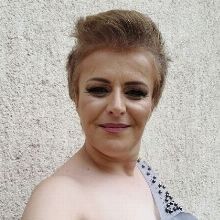 ShareASale is one of the largest affiliate networks. The Shareasale platform has about 4,000 merchants listed, of which over one thousand of them are exclusive to them. ShareASale publishes a large amount of data on each of the offers they are running, these include:
Earnings per Click
Reversal Rates
Average Sale Amount
Average Commission
While these figures aren't guarantees of payouts you can expect, they're certainly very helpful in assessing a campaign.
The advantages of ShareASale include:
Large Partner Network. The 4,000+ merchants include more than 1,000 that are exclusive.
Easy to Compare Offers. When trying to choose from the various offers available, ShareASale make it very easy to evaluate the best ones based on the metrics.
Quick Payment Cycle. ShareASale pay out on the 20th of every month, assuming your account balance is more than $50.
Disadvantages of Shareasale:
None to speak of

MaxBounty
A relative newcomer to the affiliate space, MaxBounty was founded in 2004 in Ottawa, Canada. MaxBounty claims to be the only affiliate network built specifically for affiliates. MaxBounty is exclusively a CPA (Cost Per Action/Acquisition) company that doesn't deal with ad banners or the like, just customer links that the publisher (blogger) chooses where to place on their website.
Niche Information
MaxBounty works in the business niche and claims to have more than 1,500 active campaigns.
Product Types
MaxBounty works exclusively with digital products, usually about giving one's email or signing up for a newsletter. MaxBounty has CPA, Pay-per-call, and CPL campaigns that you can choose from. MaxBounty is involved in a large number of verticals, including market research, real estate, social games, finance, dating, and diet, but is primarily designed for marketers seeking to acquire new leads.
Average Commission Rate
The commission rate depends on the type of campaign. A glance at their website shows everything from $2.50 to $85 per CPA while other campaigns pay out a given percentage of a sale. The referral commission is five percent.
Cookie Duration
MaxBounty doesn't use cookies in order to track CPAs. The way MaxBounty works is the affiliate sends a prospect to a designated landing page using an affiliate-specific link.
Who Is it for?
MaxBounty is attempting to get ahead of the pack by enforcing very strict anti-spam rules, sometimes onerously so. MaxBounty only works with digital products, not sales of physical items. MaxBounty does allow CPA action (and thus earning) via mobile devices.
As such, MaxBounty is probably best for mid-level to top-level internet marketers who are confident in managing and sending traffic. If you're just starting out in the affiliate game, MaxBounty is probably not going to earn you much money.
MaxBounty is pretty easy to get around, and the dashboard is great as it clearly lists the best offers for your niche.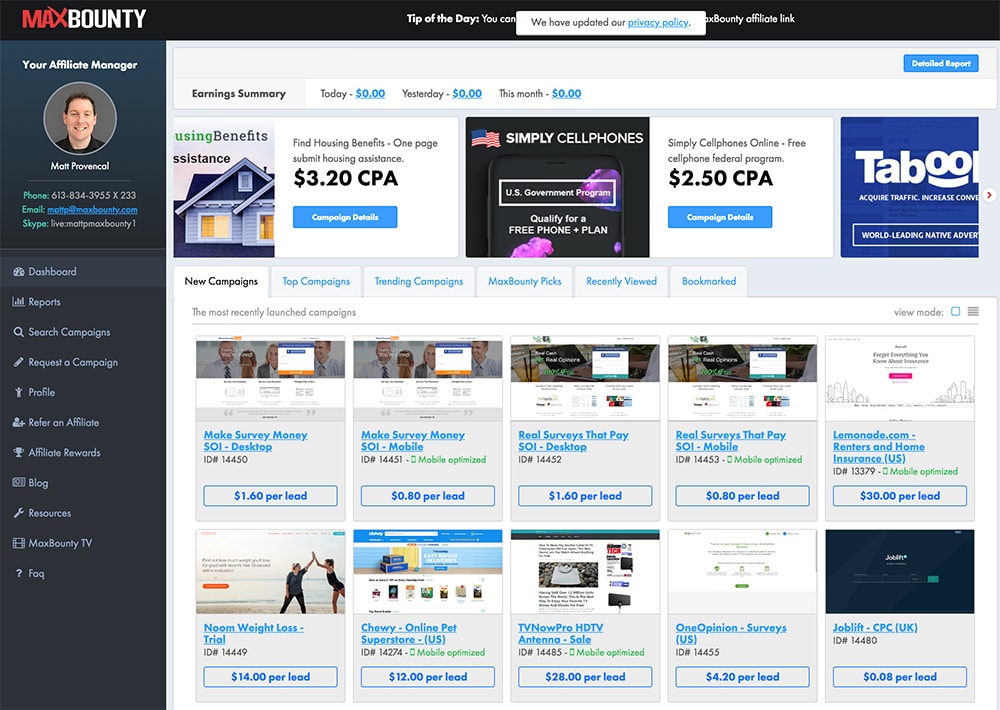 A quick round-up of the pros and cons of this program:
Pros:
Very responsive customer service.
$1,000 bonus for affiliates who earn $1,000 or more in the first three months.
Weekly payments ($50 minimum) via check, Paypal, Intercash, eCheck, ACH (direct deposit), bank wire, or Bitcoin.
Has worked with some high-profile brands.
Simple to use dashboard with useful ability to sort for high-paying offers.
Cons:
A large number of affiliates have reported a negative experience.
Accounts are often terminated with little or no explanation.
Can take a long time to get approved, which includes a voice call.
Viglink

VigLink
works a bit differently than other affiliate programs in that it is specifically designed for bloggers. Instead of affiliates picking and choosing which merchants to work with, VigLink uses dynamic links that automatically change to work with merchants that VigLink has determined are offering the highest conversation rates and/or commissions at any given moment.
In effect, VigLink works as the middleman between a publisher (blogger) and merchants by scanning the publisher's content and automatically creating links to publishers that are chosen "in real time" based on their payout/conversation rates. This makes VigLink a very hands-off affiliate program for publishers who prefer to focus on content instead of managing their affiliate links.
VigLinks works with all types of advertisers/merchants but does categorize them by "trends" or what's popular. It's important to note that this information about trends comes from third-party sites, not VigLink itself.
VigLink is primarily about selling physical products but also does work with some digital-only products and services.
VigLink allows affiliates to filter between CPC, CPA, or both CPA and CPA offers. The commission rates are set by the merchant, not VigLink.
It depends on the merchant and/or offer.
VigLink is an intermediary platform, so it can serve as a backdoor for affiliates who have previously been banned/suspended from working with other affiliate programs like Amazon. And while you can choose specific merchants or offers, VigLink can be set up to work automatically by scanning your published content and dynamically generating affiliate links, making it a great choice for established content producers who are looking for a simpler way to generate revenue via an affiliate program.
A quick round-up of the pros and cons of this program:
Works well across websites/social media/apps.
One-page dashboard is very simple to use yet powerful.
Great for bloggers who want a more hands-off affiliate program.
A good option for people banned from Amazon or other affiliate programs.
Can be set to dynamically update links to maximize your income.
You have to be approved by each merchant separately.
The "automatic creation of links" needs to be fine tuned (esp. the WordPress plugin) in order to maximize earning potential.
Huge disparaties in payouts between merchants/offers.
Only pays out once a month.
VigLink will take a healthy slice of your commissions/income.
CJ Affiliate is considered to be the biggest affiliate platforms online; if you have worked in the affiliate marketing space for any amount of time, you've probably come across them.
Nearly every major retailer have their affiliate programs on CJ Affiliate (formerly Commission Junction), which makes them as close to a one stop shop as you can get in the affiliate marketing business. Most retailers have multiple ad sizes available for affiliates, which gives you better control of the offers you show on your blog.
With such a wide array of advertisers on the CJ Affiliate platform it makes it relatively easy to compare and segment different offers. Finding the affiliate tracking code to place on your blog is also straightforward; once you're approved to promote an offer, you can be running lots of different offers on your site in just a few short hours.
To summarise, the advantages of the network are:
Large Partner Network.

CJ Affiliate has over three thousand advertising partners, many have lots of creative sizes and various affiliate link options.
Reliable Payments.

They offer a net-20 payment term which means that you'll get your commission paid out in a timely manner each month.
Powerful Reporting Options.

The reporting suite from CJ Affiliate is pretty impressive, which is a big advantage for marketers who plan to spend a their time optimizing their sales performance.
Disadvantages of the network include:
Steep Learning Curve.

While the reporting capabilities are great, they're also quite difficult for beginners to get to grips with. You'll need to spend time in the dashboard before you're comfortable navigating the reporting suite and can then start to take full advantage of the tools on offer.
Limited Customer Support.

Due to the large number of affiliates and merchants, it's understandable that customer support is quite limited. But only having a contact form as the main method to get in touch with the support department can be restrictive.
How can products be promoted?
In order to successfully apply the knowledge that you can gain through the affiliate marketing course, you need to properly communicate with the site visitors, ie. with fans on social networks. Namely, without them and their trust, nothing will mean the best website and developed business. There are several ways to reach potential customers.
Media portals visited
Considering that these are sites that have millions of visits both domestically and internationally, it is possible to make great money through any type of conversion. Sites like this have great visits, but the question is how loyal audiences they can get them to buy.
Just because someone came to read some news does not mean that they have so much confidence in the portal and that they will spend their money because of their words. It all depends on the approach, the reputation and the product itself. In this case, even Pay per click earnings would be great.
Mailing list
Email marketing is still a very cost effective way to reach potential customers. The good thing is that in this case you are contacting the consumer directly, referring him directly to your or the manufacturer's website.
Still many companies make great money this way, skipping completely their own site. If you have a loyal audience subscribed to the mailing list, it is often enough to send a mail with a well packed "unique time limited offer".
Sites focused on a specific niche
If your site specializes in a particular thing, it will be easier for you to get visitors' conversions, even if you have a smaller visit. If you have 100 visitors interested in computers and you promote a laptop, that is much better than, for example, 10,000 cat lovers (unless you sell cat food).
Influensers
These are the people who make a big impact on their fans, whether they be on the mornings, twitter feeds or some celebrity. Their main task is to use their fan base to draw their attention to the products they promote. Since it's usually about fans listening to their idols, the conversion is usually extremely high.
head>